Introduction
DXSpotter™ is designed as an efficient, stable and easy-to-use DX Cluster program.
DXSpotter is capable of exchanging a tremendous amount of information in DX Clusters on the Internet and working with the popular
DXSummit
service. DXSpotter has a fully adjustable interface, including graphical skins, and satisfies the needs of any user.
The user is able to set unique sounds, turn on 'speech' mode, or enable the popup alert to notify when a chosen DX station, announcement or WWW information has appeared. Filtering the frequency gives the ability to view only those stations within the selected range.
If the user participates in a contest or is a hunter for DX, then the option of quickly setting the transceiver to a frequency for a working station, gives another advantage. The current version of DXSpotter supports more than 70 popular models of transceivers from YAESU, KENWOOD, ICOM and Ten-Tec.
A full log of the program, lists of the DX spots and announcements can easily be saved for future reference and use, with the additional ability of sorting them 'offline'.
For Telnet connection features include:

An automatic mode or server access without connection scripts.

Cluster's password keeping.

Full log reports, saving of DX spots, WWV and DX announcements, with further viewing available in 'offline' mode.

Easily configured DX spot, WWV and DX announcements filters.

User-friendly interface of received information with full color adjustment.

Changing the screen size to match the Spot-table.

Sending DX spots and announces to clusters around the world.

DX Spots real time spelling.

DX sound and popup alerts for DX stations or information you need.

Search for text or callsigns.

Advanced Internet search for DX stations.

The BandMap utility for monitoring bands in real time.

One click for HamCall, RAC or QRZ Callbook information.

One click for DXCC or IOTA information.

The autocomplete of useful cluster commands.

Multiple copies may run simultaneously for monitoring an unlimited number of different DX Clusters.

The DX Tray utility for quick launch DXSpotter and utilities.

DXAtlas
software and broad list of Logbooks integration.

Quick Jump to the DX frequency. DXSpotter supports more than 70 TRX models from ICOM, KENWOOD, YAESU, Ten-Tec

And more...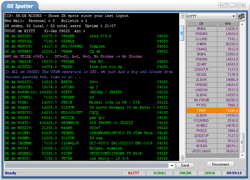 Current version: 4.01
Size of a file zip: 3.96 MB
Date Published: May 22, 2009
The minimal requirements:
Windows 98/ME/2000/XP/Vista/7
640x480 screen and higher
16bit colour and above
64Mb RAM and is higher
SP Internet connection or Packet Radio
Download
When connecting to cluster, there is the option of automatic authentication and saving of the password. DXSpotter has the added ability to notify the user of selected DX stations, allowing the user to use the program in the background.
The search utility for popular callbooks (QRZ, HamCall and RAC), and online search utility give the possibility of quickly retrieving information about working stations.
The integration with other HAM radio programs gives the ability to view working stations on a map, with the help of programs like
DXAtlas
, and provides an easy way to quickly transfer the information to the logbook.
One other ability of DXSpotter is a utility allowing for the synchronization of the computer's time with increased accuracy, allowing the user to avoid differences while sending messages.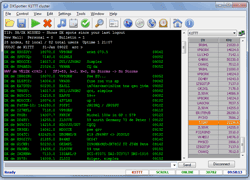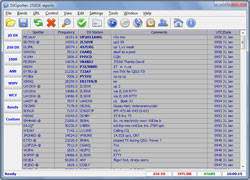 The DX Summit window monitors the DX spots and announcements available on the Internet at
DX Summit
web site and presents the information in a sortable grid format.
For DX Summit connection features include:

With a single click the ability to retrieve 25, 250, 1000 DX spots, announcements, WCY, and WWV reports.

Automatically retrieve latest DX spots.

Send DX spots, announcements and WWV reports to DX Summit site directly.

Proxy server support.

Sort DX spots by Frequency, Time, Callsign, Spotter or comment.

Easy URLs for monitoring IOTA, QRP or other special links.

Marking of the latest DX Spots.

Hyperlinks for DX station and frequency.

DX Summit Database search.

Quick Jump to the DX frequency. DXSpotter supports more than 70 TRX models from ICOM, KENWOOD, YAESU, Ten-Tec.
Video Tutorials (Flash)
| | | | |
| --- | --- | --- | --- |
| N | Description | Size | Link |
| 1. | Quick Start | 1.4 MB (SWF) | View |
| 2. | How to set up Sound Alerts | 987 KB (SWF) | View |
| 3. | How to integrate DXSpotter with a logbook | 808 KB (SWF) | View |
| 4. | How to integrate DXSpotter with DXAtlas | 1.11 MB (SWF) | View |
| | Download all tutorials as a single package | 3.12 MB (ZIP) | Download |
Downloads
To download DXSpotter please select one of the download sites below.
For best download speed you might consider selecting a mirror site close to your location.
DXSpotter is not free software. Unregistered copies of DXSpotter are fully functional (except TRX control), but will run for 10 minutes per session only (or 20 lookups per day for DXSummit). You can download and use DXSpotter free of charge for a period of 30 days. After that period you have to either uninstall the software or register your copy of the DXSpotter by sending an equivalent of
25
US Dollars.
Once registered, you'll get a lifetime unlimited free access to any future release, without having to register again.
For Windows 95 users only:
You shall first install the following Microsoft updates:

Microsoft Foundation Classes. In case you're experiencing error mentioning 'mfc42.dll', download the setup file below and install it before installing DXSpotter:
VC6RedistSetup_enu.exe
from
www.microsoft.com
;

Common Control Library Patch. Download file
50comupd.exe
, install and reboot.
Reporting Bugs
If you encounter a problem while downloading software from this page, please record all the information
and send it to:
support (at) dxshell.com
.