RigResident is a small program that allows you to set and read data (frequency, mode, etc.) of a connected transceiver.
RigResident supports more than 100 TRX models from ICOM, KENWOOD, YAESU, and Ten-Tec:
YAESU
: FT-100, FT-450D, FT-736R, FT-747GX, FT-757, FT-767, FT-817, FT-818, FT-840, FT-847, FT-850, FT-857, FT-857D, FT-890, FT-891, FT-897, FT-900CAT, FT-920, FT-950, FT-980, FT-990, FT-991, FT-991A, FT-1000, FT-1000D, FT-1000M, FT-1000MP, FT-200, FT-200D FTDX-101D, FTDX-101MP, FTDX-1200, FTDX-3000, FTDX-3000D, FTDX-5000, FTDX-5000D, FTDX-5000MP, FTDX-9000, FTDX-9000D, FTDX-9000MP, FRG-100
ICOM
: IC-271, IC-275H, IC-375, IC-471, IC-475, IC-575, IC-703, IC-706, IC-706MKII, 706MKII-G, IC-707, IC-718, IC-725, IC-726, IC-728, IC-729, IC-730, IC-731, IC-735, IC-736, IC-737, IC-738, IC-746, IC-746PRO, IC-751A, IC-756, IC-756PRO, IC-756PROII, IC-756ProIII, IC-761, IC-765, IC-775, IC-78, IC-780, IC-781, IC-820, IC-821H, IC-910H, IC-970H, IC-1271, IC-1275, IC-7000, IC-7100, IC-7200, IC-7300, IC-7400, IC-7600, IC-7610, IC-7700, IC-7800, IC-7850, IC-7851, IC-9100, IC-9700
IC-R10, IC-R71, IC-R72, IC-R75, IC-R7000, IC-R7100, IC-R8500, IC-R9000, plus user-defined CIV address for other ICOMs.
KENWOOD
: All models.
Ten-Tec
: RX-350, Argonaut, Jupiter, Orion.
Elecraft
: K2, KX2, K3, KX3.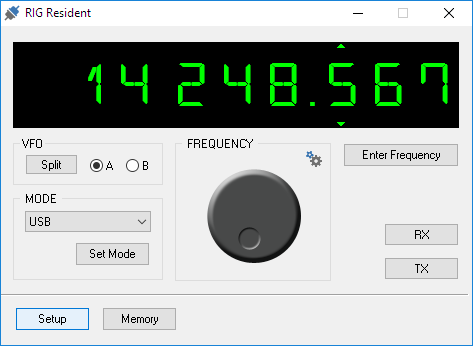 Current version: 2.2
Size of a file zip: 98 KB
Date Published: May 4, 2023
The minimal requirements:
Windows 98/ME/2000/XP/Vista/7/8/10/11
16bit colour and above
128Mb RAM and is higher
Download
RigResident program is a standalone application, and it doesn't require any installation process or additional DLLs.
Downloads
| | | | |
| --- | --- | --- | --- |
| Version | Size | Link | Package |
| 2.2 | Program package (ZIP), 32-bit version | 98 KB (ZIP) | Download |
| 2.2 | Program package (ZIP), 64-bit version | 238 KB (ZIP) | Download |
Reporting Bugs
If you encounter a problem while downloading software from this page, please record all the information
and send it to:
support (at) dxshell.com
.